Heavenly Delights – Halal Certification
Heavenly Delights is a new brand of confectionery that has been created for the Halal-conscious market of today. Our aim is to provide consumers with the best quality confectionery whilst ensuring that we use the finest 100% Halal ingredients.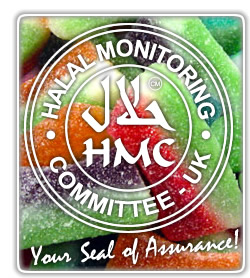 At Heavenly Delights, we are fully aware of the ever-increasing concerns on the issue of Halal and the abuse of this term on a mass scale in the food industry as a whole. Therefore, we have gone to great lengths to ensure that every ingredient that is used in the production of our confectionery is checked and approved as 100% Halal by a reputable Halal Certifying Authority, who utilise the most stringent methods to arrive at such a conclusion.
As such, we are pleased to announce that Heavenly Delights is the first Halal Confectionery brand to be fully certified by HMC (Halal Monitoring Committee – UK).
The HMC Certification process entails:
---
Checking every ingredient that has been used in the manufacturing of our confectionery, which includes flavours, colours and E numbers.
---
Checking the gelatine production plant, their sourcing of bones for the manufacturer of the gelatine, along with the manufacturing process and ingredients used.
---
Checking all pre-production and production processes to ensure that all equipment being used is properly cleaned and that no contamination takes place, before, during and after the confectionery is produced.
---
Checking that all post production processes such as storage and packaging are performed without any contamination issues.
---
For further information on HMC and their certification processes, please visit: www.halalhmc.co.uk
About Heavenly Delights